Best of 2012
Whilst many artists profess influence from a wide range of sources, Spanish collective Downliners Sekt are one of the few outfits that truly give the assorted genres blended into their music the proper attention, displaying as much mastery of dub-techno or shuffling garage as they do atmospheric guitars or sample manipulation. The latest release from the shadowy collective is a fantastic example of this, expertly fusing grainy percussion with atmospheric vocals and piano samples. Whilst 2012 has undoubtably been a year for pushing boundaries on the dancefloor, Downliners Sekt are one of the few outfits helping to propel rhythm centric electronic music outside of the house and techno bracket.
- Theo Darton Moore
Up until the release of What I Might do on British Disco/House label MTA, Ben Pearce was a relatively unknown promoter and DJ outside of his native town Manchester. Following the single's release Pearce was thrust into the strobelight, seeing his records played out by the likes of House luminaries Seth Troxler and Solomun, and overseeing the launch of his own imprint Purp & Soul.

Structured around a unsettled monologue borrowed from R&B singer Anthony Hamilton, What I Might Do's skeletal structure steadily runs the gamut of Deep House from the tentative opening bars- punctuated by shadowy chords, to the final third of the track which is propelled to its brooding peak, offset by the staggered funk chord progression. Although the track does very little to update the Deep House sound palette so beloved of the Diynamic and the Hot Creations imprints, it's a real testament to Pearce's ability as a producer to take something as overdone and trite as R&B centric House, and create a record that is as sincere as it is enjoyable. After a year where Industrial music, abrasiveness and Noise become di rigueur in dance music, it's refreshing to listen to a heart-warmingly immaculate track, that seems to melt into your consciousness with no effort. What I Might Do is the sound of a young producer coming into his own and deservedly so.
- Neto Light-Lopez
I don't think I heard this out clubbing a single time this year, which puts it in stark contrast with my other choice on the list (see no. 6 below).  The pick of a very strong LP on Tresor, which itself was the most accomplished release of another consistent and prolific year for the perennial Berlin label. It's five minutes of kick drum and a droning bassline embellished chiefly with a single repetitive note and propulsive hi-hats. Driving techno, criminally slept on this year.
- Rob Heath
In an interview we conducted with Nick Sigsworth aka Klaus earlier in the year he stated he enjoys working in a subtractive way - combining lots of elements together and then removing as much as possible to see how stripped back he can get away with. This idea is taken to its limit on his second release Neph/Phi, which is about as minimal as they come. Comprising the first release for his recently founded label Tanum, the 12" generates as much intrigue around Sigsworth's future intentions as it fulfils the anticipation for more solo releases following on from 2011's amazing Tusk EP. Neph is our pick of the two, highlighting Sigsworth's more than competent sampling abilities.
It is perhaps unsurprising that there are few Klaus releases to date, as the processes involved in creating music like this are painstaking and time-consuming. However by the merit of Sigsworth's releases so far, the end results more than warrant the patience they are afforded.
- Theo Darton Moore
Other than his edit of Roxy Music's Love is the Drug, the It's The Arps EP was Todd Terje's sole release of the year. Truth be told, I've always found Terje a bit hit and miss. With a couple of notable exceptions, his disco edits often feel unnecessary and contrived, and I was a little bemused at the praise for last year's somnolence inducing Snooze for Love (fourth best track of the year, really RA?). Other than Inspector Norse, It's The Arps is fairly middling. But that doesn't matter in the slightest. After producing one of last year's most joyous tracks in 'Ragysh', Terje has done it again with yet another divine slab of cosmic disco. If you didn't lost your shit on a dancefloor at least once during the last 12 months to the beatific, reeling crescendo three and a half minutes into Inspector Norse, don't worry too much; there'll doubtless be plenty more opportunities in the new year. Wunderbar.
- Rob Heath
2012 saw the transformation of Markus Suckut from the proverbial new kid on the block to a truly unique force in techno. His ability to lay someway between the funk and patience of Levon Vincent and the raw and hypnotic stylings of Marcel Dettman is what drew droves of people to his sound over the year, with him releasing relentlessly on labels such as Figure SPC and his own label SCKT. It was difficult to pick out just one standout track from Mr Suckut this year, but after some typically communist committee deliberations, we settled on False. It is in almost all aspects a perfect representation of his sound, impeccably simple, engaging and above all fun. His absence from most of the high profile new years lists is testament to his subtlety as a producer. There are no gimmicks to be found here. Deep and raw jams are the name of the game. And its fair to say he blew our heads off with them in 2012!
- Sean Hughes
With the sheer amount of incredible techno produced each year and the way it's DJed and consumed means the stand out 'bangers' don't always stand out, each track has its own place in a night or a set. That said, some still sound great by themselves. Folsom is one of those. A comparatively new guy on the scene Henning Baer has a great command of progression. Each new propulsive, industrial-sounding element is added at the exact right moment. Its just one of those tracks that from the first kick drum makes wish you were hearing it in a club (I still haven't). With releases on various notable Berlin labels, including the white label arm of Psyk's excellent non series, 2012 was Henning Baer's year. If the fetishisation of Berlin mean more of these 12"s worm their way into the British collective consciousness in 2013 then its fine by me.
- Asa Thomas       
For fans of anything vaguely 'industrial' the idea of two members of Throbbing Gristle collaborating with Nik Void of 'post-industrial' band Factory Floor should rouse some kind of positive emotion. However, no one was really prepared for how freaking good it actually turned out to be. Recorded in one take, live, at London's Round House the record can only be described as powerful. Spread over a sparse 5 tracks listening to all of Transverse is slightly exhausting, each track feels like its own mini-album. Consequently picking only one was difficult but V2's 10 whole minutes of raw, ceaseless beats, blasts of noise and occasional strained vocal screams is just too perfect. In a year where many techno artists returned to a more industrial sound, it was really refreshing to have that formula flipped on its head and hear a record made by industrial artists that sounded kind-of like techno.
- Asa Thomas 
Moodymann is a Detroit legend and one of the pioneers of what we now recognize as the early stages of house. Known for his outspoken views as well as his music he is an established name in dance music past as well as present. This year he released the three track EP titled Why Do U Feel and it is the records namesake that really struck me.
I first listened to it in a Ben UFO set, it was the last track played and I heard the soulful vocal rise over the previous track, instantly noticeable due to the power of the voice, my attention was instantly turned to the new song. The crowd found it difficult to dance to as the beat drops out expectantly at points but no one cared; it was a song that seemed to really unite people in sound. Perhaps this is due to Moodymann's Detroit heritage or maybe everyone just loves a good vocal line, it didn't matter, it was just a good sonic experience. The stripped back elements of it seemed at odds to the rest of the set that was played but it made for a euphoric end as everyone bathed in the soft frequencies.
Every time I hear it still it surprises me, the unconventional nature of its structure crossed with the stripped back easy listening vibe. This is a track that it seems impossible to get bored of. 
- Owen Lewis
Dusty, haunting and unorthodox, each track from Bandshell's EP on Hessle Audio this year has it's own facets that demand your attention and appreciation; Dust March being the pick of the crop, and our favourite track of the year.
The dim, greyish colour of the classic Hessle Audio logo aptly embellishes the EP's misty, obscured aesthetic. Weaving open-space noise, quaking subs, evil groans and furniture rattles, Dust March kind of feels like a scene from Perfect Dark, kind of like a haunted mansion and kind of like something of another world entirely. The contorted, processed percussion jumbles around the mix like a box of tools, while the scattered rhythmic clangs are placed sparingly to invoke an Escherian dizziness.
Speaking to XLR8R earlier this month, Bandshell writes, "Most of the sounds in the title track are samples of various objects or bits of junk: doors, scaffold poles, and whatnot", citing the Tom Waits 'everything including the kitchen sink' timbre as a parallel case. Bandshell further writes, "age, decay and obsolescence frighten me, so I like the idea of giving new purpose to something that may not have been built or designed with that purpose in mind". Indeed; this is innovative, futurist, visionary music. 
- George McVicar
Misogyny, Youtube & Dance Music
Recently, a track from one of our contributors, Stavrogin, was posted onto youtube, with the picture of a man strangling a woman. Needless to say the uploader was asked to take the track down. Unfortunately this is far from an isolated incident. Several corners of Youtube are rife with videos that contain the following three components: a radio rip of some great track, exposed breasts, and an achingly predictable top comment, usually along the lines of "came for the chick, stayed for the tune". For what is essentially soft-core pornography to be seen as acceptable for dance music youtube clips, they must be shot a certain way. Often they are made to look superficially 'arty' with Instagram photo effects or with the models in 'Supreme/Obey' hats, giving them a fashionability similar to that of American Apparel or TopShop. This juxtaposition can make it seem as if the objectified woman is just another necessary commodity for that image, along with the cap and the Instagram effects. Admittedly, a pair of breasts are much less shocking than the Stavrogin example. However, the abundance of naked women that appear in conjunction with dance music these days is undeniably common. Is dance music culture becoming more misogynistic? Sexism is, of course, nothing new for mainstream music - from wartime mascots such as Vera Lynn, to the likes of Girls Aloud and The Pussycat Dolls, there has always been some percentage of objectification of women in music. Even so, I used to think the underground dance music scene in the UK was different. I saw it as a haven for music lovers, which upheld a markedly anti-image tradition. However, I am now beginning to think that it isn't as sexually sanctified as I once thought.                       
Let's take a look at some of the heritage that has heavily influenced dance music from the last 20-30 years to try and understand why this phenomenon may have come about. When illegal raves first started to emerge around the country, the media found it difficult to interpret exactly what the message of it all was. Were they rebelling? What was their political standing? Indeed, it seems that rave culture was decidedly apolitical. Respect and tolerance seemed to be the only social policies allowed on the dancefloor - everything else would be left in the daytime along with your suit and your nine to five. Going back further, the German Techno scene has had a huge influence on modern dance music and is still as vibrant as ever. Given that the German Techno scene was largely brought out of underground Gay Clubs, It seems particularly odd that modern clubs should end up so dominated by an ideology that sexualised women. Both the Rave scene in the UK and Gay Scene in Techno circles had one key feature in common - one of sexual equality. Sadly, the dance scene now seems to have an unmistakably sexist outlook, and this is most evidently seen through the youtube pictures and internet blogs. Perhaps the most maddening thing about this recent youtube phenomenon is that often the picture is more talked about than the music, sometimes to the extent that both are even mentioned in the title, as if beats and bums were as inseparable as space & time.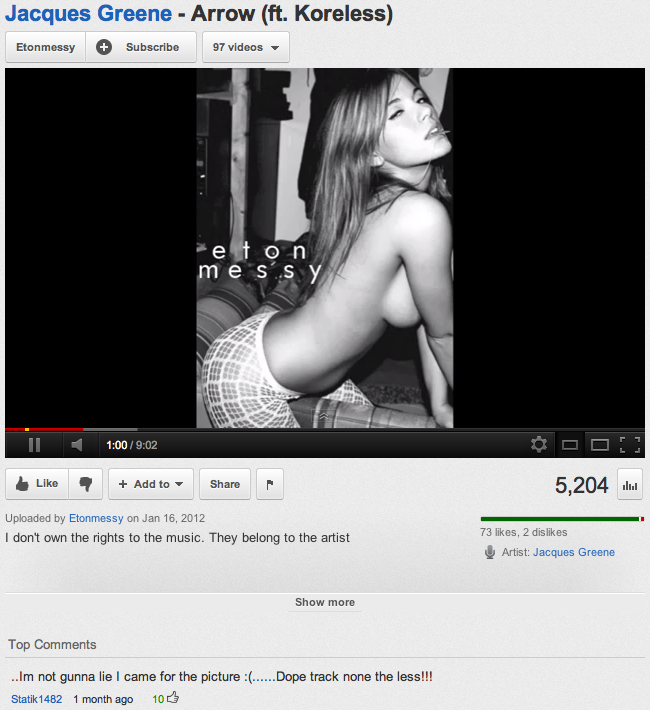 One could argue that since clubbing was initially a predominantly macho activity amongst subcultures of the expanding gay scene, women weren't really part of dance music society until after the foundations had been laid. Hence, when clubbing entered the mainstream and opened itself up to heterosexual men, it simultaneously opened itself up to women too. However, this still doesn't explain the sexualisation of women.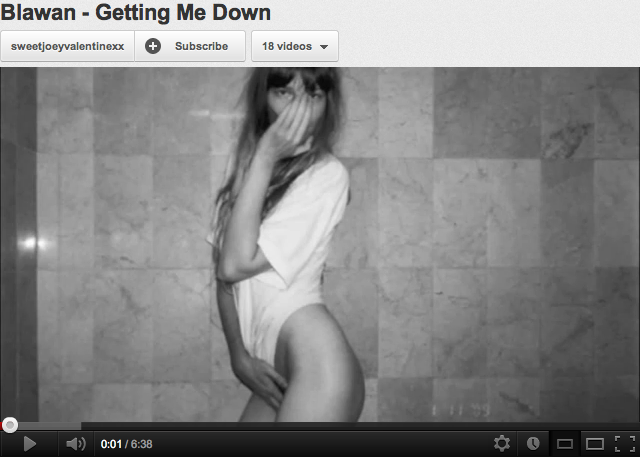 Granted, the original gay clubbing scene of the 1980s still has remnants of thriving culture - take Berlin's world-famous Berghain club, where the notoriously strict door policy favours bald heads and tank tops above all else. Despite these glowing reminders of the early Techno scene, most clubs these days favour swathes of scantily clad girls, presumably so that the club photographer can create a portfolio of pretty young things for their website. If you ever find yourself looking through the photos from a club night, it can sometimes feel as if you're flicking through a lads mag rather than an underground music event - endless streams of women with all the hallmarks of the stereotypical male sexual fantasy. When I recently spoke to a club photographer about his job, he stated that the promoter had instructed him to get as many photos of girls kissing each other as possible. Next time you find yourself on a club-night photo album, note the discrepancy between pictures of men and pictures of women and ask yourself why this might be the case.
If we take a look at the popularity of female DJs and producers, too, we see a bias. Of Resident Advisor's top 100 DJs of 2011, 8 were female. Doubtless this is because more men start DJing to begin with, but the reasons for that are probably due to something wider. I think many people see DJing as a masculine profession and the existing social climate in which DJing is male-dominated could be intimidating for many women. Taking one of the 8 DJs, Nina Kraviz, we find that her whole image wouldn't seem out of place in a fashion magazine. Probably her most famous track, 'I'm Gonna Get You' is a classic house stomper with whispered vocals throughout that read:
"my cock is so hot… if you want to ever let me fuck you.. I want to look at you naked with your legs open…"
I'm not here to tell anyone what he or she can or can't write in their songs, or the image that they're allowed or not allowed to have. I don't want to come across like I'm slating Nina Kraviz here. She is, of course, entitled to be as sexy as she pleases, but I wonder to what extent Kraviz' music is popular for the sex-appeal and how successful she would be if she took a Burial-style approach; hiding her image completely and letting the music stand for itself. Of course, there are plenty of female producers out there who don't pander to a sexual image, for instance Margaret Dygas, Ikonika, Steffi… Nevertheless I would also be quick to point out how underrated these producers are. It would be interesting to see the level of attention these producers may get if they adopted a similar sexual persona to Kraviz. I think the respect that Kraviz has could potentially stem from her image – and this doesn't seem to be so much of a necessary prerequisite for men.
The notion of misogyny and dance music has become a topic of interest lately with Hessle Audio co-founder Ben UFO regularly tweeting about Feminism. I often wonder if perhaps this decade will see a rise in politically concerned DJ-activists. Back in October, UFO tweeted;

Since then several youtube channels have appeared such as  'radioripsvsrapeculture' and 'ukhunkylol'. It would seem as if these channels attempt to reverse the 'sexy women/big beats' image in the videos to pro-feminist or in some cases, sexy men instead. Of course, saturating the Internet with pictures of naked men is not the answer to combat misogyny – that could be interpreted as just another form of sexism. However, when dubstep youtube surfers finally find that one track that they've been looking for all year, only to have a picture of a sweaty six-pack to accompany it, there is an overwhelming sense of "what is the relevance of that picture?" and it makes you wonder why we don't ask the same when the image is of a woman. 
(Note the 'MenUFO')
I think there are two main points of action to take if we want to tackle misogyny in dance music. From the perspective of Stray Landings, I feel it's our duty to upload as much great new music as possible with a strictly non-misogynist iconography attached. Hopefully this should filter out some of the stuff that you increasingly find on the various Youtube Channels or Music Blogs. Secondly, and most importantly, we need to change people's minds about dance music. The real problem, I think, is the notion of clubs as nothing more than places to 'hook up'. As Charlie Brooker put back in 2007;
"Seven hours hopping about in a hellish, reverberating bunker in exchange for sharing 64 febrile, panting pelvic thrusts with someone who'll snore and dribble into your pillow till 11 o'clock in the morning … why not just stay at home punching yourself in the face? It'll be more fun than a club." 
I get the impression that most people today, especially those who have never been to a nightclub, see the veneer of club culture with mostly naked women and dance music and hence associate the two. Club culture is almost ubiquitous now amongst the UK youth - it's often the centre point of weekends and as such is a big part of our lives. Don't get me wrong - I think this is wonderful. Clubs are great places to hear music you wouldn't have otherwise heard, and on a sound system you're never going to experience anywhere else. I think if we can diminish the amount of sexual imagery that comes along with dance music, particularly on youtube, then we can dissolve the seedy stigma that it seems to have gained. From this, I think it's possible that we could project a more positive image to the rest of the media, and to the musical community as a whole. 
Article provided by George McVicar.